A selection of the 50 news articles and numerous photos I took for the Herald News during my summer internship
Middle School Science Students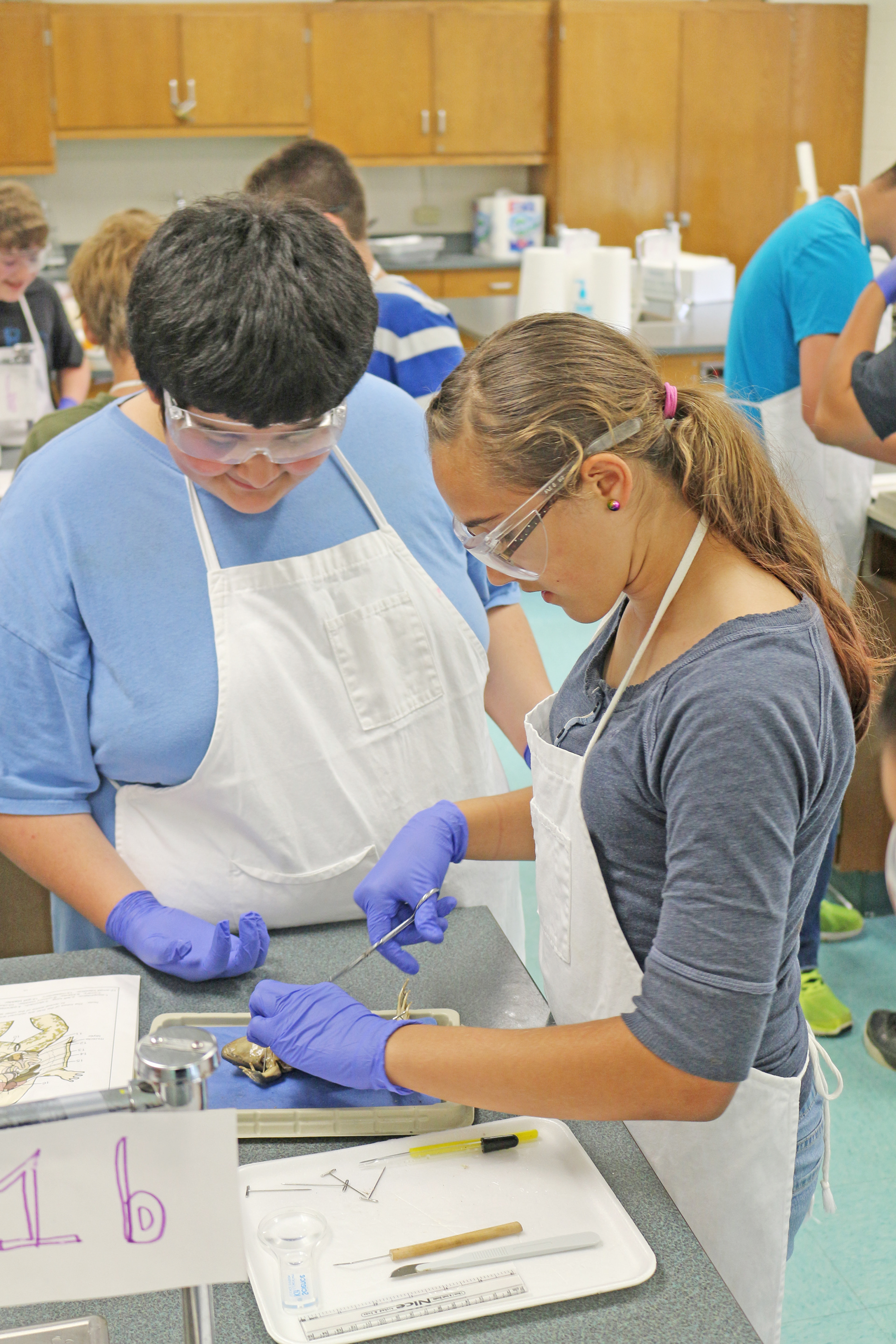 DRAFTED TO FIGHT AT 11 CENTS PER HOUR 
At the age of 24, Phillip Atherton, a painter, was drafted to fight in Vietnam. He deployed in October 1966 and returned two years later. 
When he was first deployed, he was scared, he said. 
"They wouldn't tell me where I was going, but I knew I was going to Vietnam," said Atherton. 
"(When) I got drafted, I just did what I needed to do to serve my country and got out," he said. 
He started out in the Army's 48th Transportation headquarters group, making convoys for five months, until he sustained a back injury and became a supervisor to more than 25 Vietnamese civilians. 
Every day, he said, all the Vietnamese women filled bags with sand and stacked them to create a barrier to protect them from shrapnel. 
"The Vietnamese people I supervised, they thought enough of me they gave me a miniature orange tree – which is the highest gift they can give you. Of course, I wasn't allowed to keep it," said Atherton. 
For the two years he served, Atherton made about $2,900 total, which he figured was about 11 cents an hour. When he left the military, his rank was specialist 5. 
He, like many Vietnam veterans didn't receive the warmest "welcome home." 
"There was a time when people were against the war in Vietnam," he said. "They didn't do anything (to celebrate)." 
Clippin' Waggin' brings grooming to pets 

 There's a new business in town. In fact, you may have seen it driving around Hodgenville, recently—it's pretty hard to miss. 
Jill Rock is the proud owner of the Clippin' Waggin', which, she believes, is Hodgenville's only mobile pet grooming service.  
Her business is set up in a white van with bright, multi-colored bubbles painted on the sides and pictures of her dog, Jack, sitting in a tub on wheels, and Winky, her mother, Rosalie Jahnke's dog on the back.  
The inside of her mobile salon is just as bright as the outside, with hot pink accessories all around. 
 The Clippin' Waggin' caters to Hodgenville, Elizabethtown, Bardstown, New Haven, and Campbellsville.  
The salons' mobility makes it much easier on pet owners, by allowing them to get their pet groomed without having to go out of their way or stress the dog by putting it in a cage and traveling long distances.  
Rock recently moved to Hodgenville from Alaska, to be near her husband, Rick Rock's family, and has been very pleased with the how Hodgenville has welcomed her. 
"Hodgenville has been so accepting of my business—it's unbelievable." She said, "people are so excited to see me." 
Rock went on to say that people often come up to her van in parking lots to ask about her services and make appointments for their pets. 
The Clippin' Waggin' offers many services besides the average shampoo and trim, including massages, facials, paw and nose balming, teeth brushing. Rock also has accessories such as bandanas, bows, feather extensions, nail polishing, and pet tattoos available. 
"I'm all about your pet having a 'spa day'," said Rock. 
Rock received her professional pet stylist certification from Bluegrass Academy of Pet Design, where she was able to get experience in many different settings, and found that she liked the one-on-one experience of a mobile groomer the best. 
Thursday, Rock wrapped up her 10th appointment, or as she calls them "Angel Appointments" with 'Lil Bit, a 10-year old Pomeranian owned by Jeanette McStoots.  
"I went to another van (in Radcliff) and they never asked what you wanted," said McStoots, "this is the first time I've actually been able to come on [and watch]." 
For more information about Clippin' Waggin' or to schedule an appointment for your pet, call 270-401-5020.  
REmembering 'Mel the Clown' 
For the last seven years, a familiar, smiling – and often made up – face visited the residents of Sunrise Manor Nursing Home. 

Mel the Clown, the alter ego of Harold West, often showed up in big shoes, red nose and white makeup as part of the "Clown for Christ" ministry. 

West, 80, passed away on June 19, leaving behind many fond memories, said Wanda West, his wife of 13 years. 

Though, many clowns focus solely on entertainment and book gigs at birthday parties, West wanted his clown to emphasize something more – love. 

"Harold went on an Emmaus walk about 2003 and his life changed with that experience. He did not like clowns at that time but the Lord told him 'I want you to be a clown for me,' so we took that on together," she said. 

Harold and Wanda met in February 2001 when she was working in the gift shop at Cracker Barrel. She said he came up to the counter and asked for her telephone number and they hadn't been apart much since. 

"When my first husband passed away… I prayed that God would send me a good Christian man, and he did," Wanda said. 

The name of his clown, "Mel," came from the Old Testament and is a shortened version of the name, Melchizedek, the king of Jerusalem, who, in the book of Genesis, is called "priest of the most high God." 

"Nobody preaches the Old Testament anymore, but Harold was a great studier of the Old Testament," said Wanda. She said he had a "great love" for the Jewish people and contributed to many organizations to help them. 

Wanda said she had argued with her husband about his plans to become a clown "but it didn't do any good." 

"He loved doing it. He loved seeing people happy. He was always happy when everyone else was happy." 

She ended up helping him – by driving him around. West loved his big clown shoes, but couldn't drive in them and didn't want to have to change clothes. 

From time to time West performed at birthday parties, but his wife said even then, he never forgot his goal. 

"It wasn't so much that he did a lot of tricks, he just fellowshipped with them and talked to them. He would really share Christ with them, because that's what he was called to do. He wanted everyone to know that God loved them," she said. "He would pray with them, he would talk to them and let them talk to him – about anything. He wanted to let them know that somebody loved them… if you met him you never forgot him." 

According to his wife, he had a great love for people and always made time to make them feel special. 

"He would forget the little everyday things, but he would remember your name." 

When he wasn't being Mel at Sunrise Manor, he was participating with the Sunrise Volunteers Redcoats. 

"There was one little lady that just got so excited when she saw him. He would just hug her and love on her," she said, smiling. "That was his mission in life, to let them know that Jesus Christ died for them, no matter who they were." 

In his youth, he fought for his country in the Army, during the Korean Conflict, and his wife described him as a "true patriot." He lied about his age when he joined the military, sending his mother into a panic, and causing her to write President Truman, pleading for him to be sent home, which he was, once they found out his real age. But, he rejoined shortly after when he turned 16. 

Wanda said she was very grateful for all encouragement, kind words, and stories from the community she received upon his passing. 

"The love they showed him, I would've never thought in my wildest dreams that so many people would come to his funeral – people I didn't even know. So many people loved him, because he loved them," she said. 

"The community accepted him as he was," she added. "Harold was a big talker, he loved to talk… there were probably times when that annoyed them but they never said it. They loved him for who he was and what he was and I don't think anyone ever took advantage of it.… He loved the community of Hodgenville and was so happy we moved here." 
Spontaneous combustion of hay sparks barn 
​​​​​​​
The fire started after a few rolls of alfalfa hay inside the hoop barn began smoldering, according to Trena Morris, who owns the farm with her husband, Derek. Freshly baled hay has the potential to generate enough heat to cause spontaneous combustion – which is believed to be the case in the Morris' fire. 
The Morris family learned of the fire when a neighbor pulled in the driveway and honked. 
"At first I thought it was just a cow that had gotten out," said Trena Morris. 
The hay had been tested, appeared to be fine and had not been in the barn for very long, she added. She learned Wednesday that the hay tester was not working properly. 
"It was reading it was dry," she said. The tester has been replaced. 
She said the spontaneous combustion was a first for her farm – and she's been working with hay for 18 years. 
Morris' 20 year-old son, Matthew, saved many of the rolls by moving them out of the barn with a tractor. Matthew once volunteered for the Hodgenville Fire Department. 
"If he didn't know how to drive a tractor so well it would've been a lot worse," said Morris. "He had all the bales out when (the fire department) got here." 
"There were only a couple of bales on fire," said Matthew. "If we would've taken the ones that weren't on fire first it would've saved more. It spread more because I got the ones that were on fire first." 
Trena Morris said she plans to use the burned hay for compost on the field. 
Two more rolls caught on fire Wednesday. 
The tarp that served as a roof for the barn was destroyed. The barn itself was salvaged and will be used to house cattle in the future, Trena Morris said. 
Kindergarten Circus fun for one and all 

The kindergarten classes of Hodgenville Elementary School put on a show for the entire school Thursday, and later that day for parents. The students dressed up as circus animals and performers — there were lions, horses, clowns, acrobats, and more. 
During the show, students performed tricks, sang songs, and showed off what they had learned in school this year, all with the circus theme.  
Kathy Milby, Cara Holt and other teachers planned the program. Milby served as the ringmaster. 
Many of the costumes were handmade, some of them wore animal masks, and all of them were lots of fun .